Dec 13, 2022 • 2 min read
Innovation workshops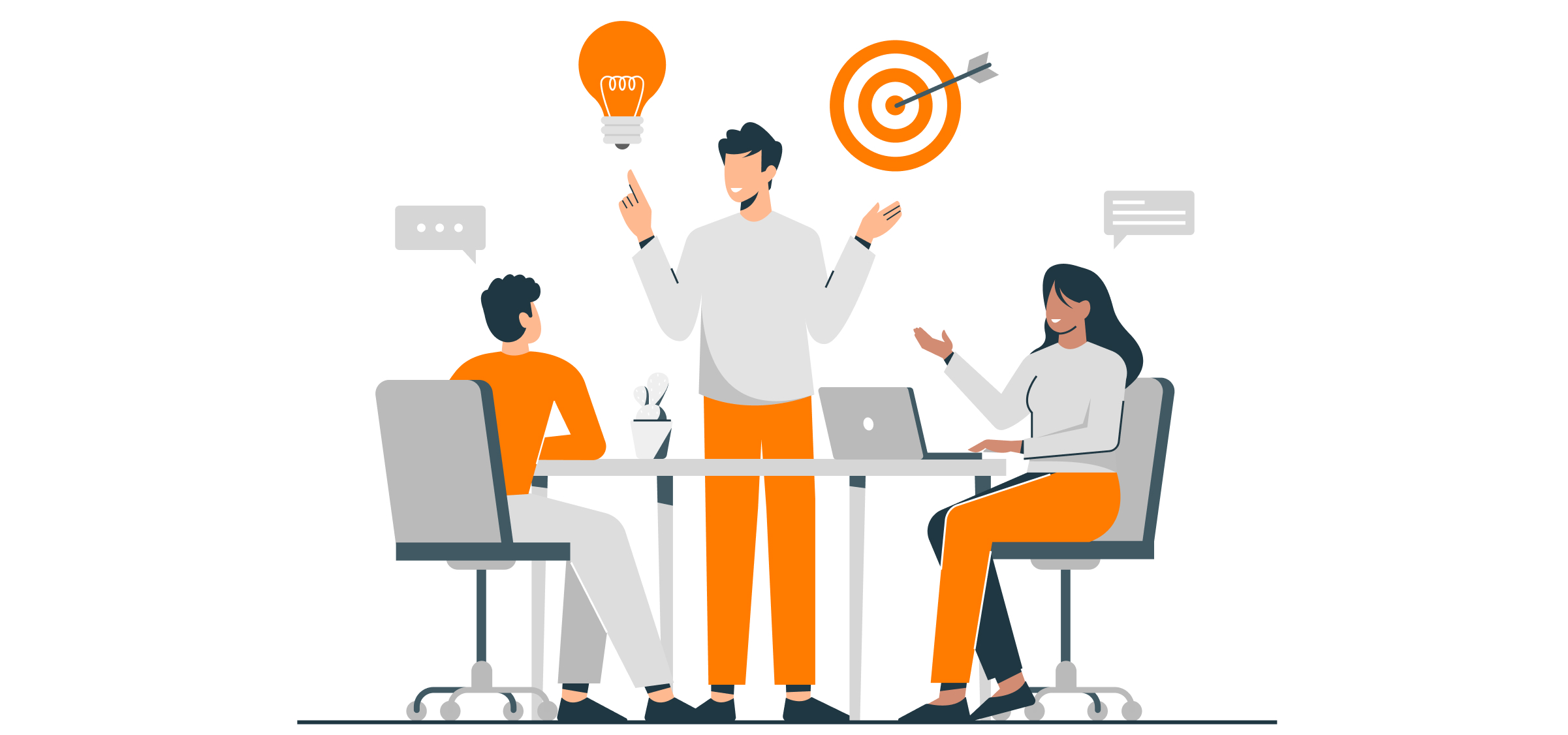 Your company may be at one of two extremes: it has been in operation for many years and survives through legacy systems and data. The pressure to join the digital transformation process is great because customers are becoming more demanding, but keeping up is not easy. You need to change the way things have been done, and fast. Or maybe yours is a start-up trying to revolutionize its industry and relying on innovative ideas to get ahead, move forward and win the hearts and wallets of consumers. Of course, you may also be somewhere in between. In either case, innovation is absolutely critical. And, one way to awaken the creative spirit in the team is through innovation workshops.
What is an innovation workshop?
Have you heard of design thinking workshops? Well, innovation workshops have a slightly broader meaning, but both have a lot in common. An innovation workshop is a gathering of all the stakeholders in a project, or team members if you opt for a smaller attendance. Its objective is to generate novel solutions to a particular problem.
Innovation workshops are led by a professional facilitator or presenter, who creates an agenda and a set of activities aimed at achieving a pre-set objective. An innovation workshop can last up to half a day, a week or even a few weeks, depending on the needs and time available.
What to expect from an innovation workshop?
Because there is no one-size-fits-all approach to innovation workshops, the agendas, activities and methods used will vary. A well-planned innovation workshop is tailored to the specific objectives and needs of the company organizing it.
However, here are some activities that are commonly implemented in most workshops. Discussions about hopes and fears related to the project:
Review of customer data or information related to the company itself.
Challenges for each team member to dive into the problem.
Identification of opportunities.
Working in groups or teams to exchange ideas and then refine them.
Ranking ideas according to their desirability, feasibility and viability.
Reaching agreements on next steps and even creating a roadmap.
Creating prototypes that imply possible solutions.
When should you hold an innovation workshop?
These are the times when we have seen that companies seek the most help and when the clarity that an innovation workshop can bring is most valued.
At the start of a project or initiative. The innovation workshop can help you get off to a good start and ensure that the key people involved are working towards the same goal and with the same vision.
When a project is stalled or needs a new impetus. Some projects get off to a great start, but there comes a point when the team stalls. Either because of internal disagreements or because they can't figure out what their next steps are. An innovation workshop can offer a fresh approach.
At a time when you need to change the current offering or the direction of the company. If you know you need to do something different, but don't quite know what, an innovation workshop can bring to light potential next steps.
The role of the facilitator or presenter
When it comes time to conduct an innovation workshop, most companies look for a professional presenter or facilitator. This is a specialized and experienced person who is tasked with helping organizations design, organize and run the workshop. This is a particularly relevant figure when the company does not have an internal innovation team.
If this is the case of your company, below are some of the characteristics you should look for:
Obviously, experience in running a wide variety of workshops for as many different types of companies as possible. This ensures adaptability and knowledge.
Someone with a broad skill set and experience in different sectors. Since innovation workshops are looking for precisely innovative ideas, you don't want to hire a presenter who specializes in just one industry. Knowledge of various industries allows you to apply different solutions and ways of thinking, which is the most attractive thing about these workshops.
Don't be afraid to ask difficult questions to the group during the workshop. Innovation workshops invariably go through a phase of questioning people. To think outside the box you have to know that the box exists and how to get out of it. This task requires an assertive and assertive personality type, able to deal with the egos of the team effectively and without hurting sensitivities. This ensures that the workshop will bear fruit.
Someone who will collaborate with you before the workshop to understand your needs and build an agenda based on what you need to get out of the experience.
Someone who is open to working after the innovation workshop on advisory issues, additional workshops or other ways to keep the momentum going.
At Ideafoster we are innovation specialists, and we are at your disposal to help you with your workshops. Contact us for more information.
Book a consultation
Let's start some incredible projects.
Let's innovate together!